AN EXTRAVAGANZA OF LOCAL PRODUCTS AT THE BRIGHOUSE SUMMER MARKET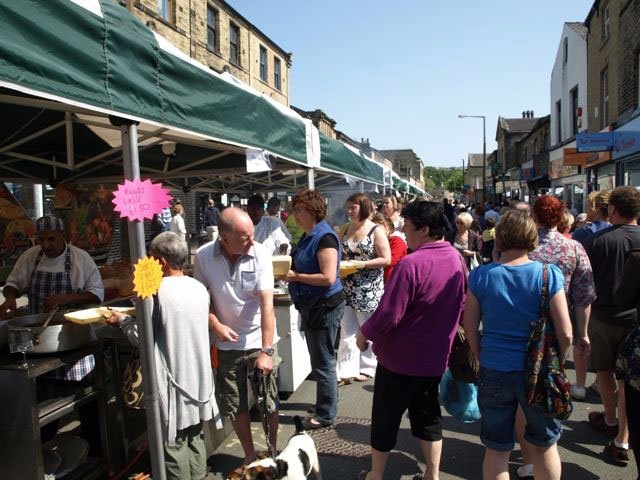 The Brighouse Totally Locally Summer Market on Saturday 31st August is going to be even bigger and better than before and is now firmly established as one of the largest Local Produce  Markets in West Yorkshire with over 80 stalls full of locally produced food and crafts.
Attracting over 15,000 visitors from all across the North of England, the Award Winning Market is proving so popular it is taking over more of Brighouse Town Centre and is expanding into King Street and Bradford Road.
There will be even more delicious street food to sample during your visit, Mr Pizza will be serving their hot, filled jacket potatoes, Italian paninis from Prego and a hog roast from GigPig. If you fancy some flavours from further afield, Délice D'Ivoire will be cooking a selection of African foods, Jamaican Delight are bringing along a taste of the Caribbean and Hussain's return with their ever popular Curry Buffet.
For those with a sweet tooth there's plenty of choice for dessert, new at this Market is the Yummy Yorkshire Ice Cream Company, made locally using milk from their own herd of cows, Get Chocolatey return with their delicious chocolate fountain and you'll be spoilt for choice when it comes to the wonderful array of homemade cakes on offer.
If all this has worked up a thirst then OWLS will be selling a range of local beers, Little Red Berry return with their delicious liqueurs made from locally sourced fruits or if it's a drink from the past you're looking for then Ryecorn Wholefoods will be serving old favourites such as sarsaparilla, blood tonic and dandelion and burdock.
On top of this there is a whole host of local food producers, from local cheese makers to community bread bakers, local jams and preserves, pork pies and savoury tarts, the Market gives you a great opportunity to meet the people who make such delicious local food.
There is also a vast array of locally produced crafts on sale as well, from hand crafted garden planters made from recycled timber by Gordon Carr, WK Creations are a new addition with mosaic style coasters and mirrors, beautiful hand stitched cushions by Faith-Golding, handmade  soaps from the Calder Valley Natural Soap Co. and much, much more so there's sure to be something to tempt you.
To keep the family entertained throughout the day there will be live music from a young local band called Avenue followed by Vegas Elvis and Ziggy Sawdust and in the afternoon the Flashbacks will be performing with their swing band and there will be more fun filled fairground rides to keep the little ones amused at what is now a great family day out.
John Buxton of Ryecorn Wholefoods in Brighouse, one of the event organisers comments, "It's wonderful to see how far we've come since holding our first Market in 2012 with only 25 stalls, to now having one of the best Local Produce Markets in West Yorkshire."
"Visitors have really embraced the Market and it's been amazing to discover all the small local producers that are right on our doorstep and see them proudly displaying their products at our Market"