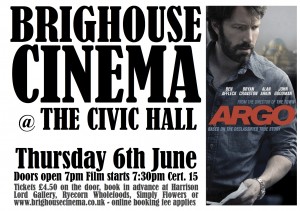 Brighouse Cinema @ The Civic is back with a screening of the Oscar winning film Argo.
Argo is a 2012 historical drama thriller film directed by Ben Affleck. This dramatization is adapted from the book The Master of Disguise by CIA operative Tony Mendez, and Joshuah Berman's 2007 Wired article "The Great Escape" about the "Canadian Caper",in which Mendez led the rescue of six U.S. diplomats from Tehran, Iran, during the 1979 Iran hostage crisis.
The film stars Affleck as Mendez with Bryan Cranston, Alan Arkin, and John Goodman in supporting roles, and was released in North America to critical and commercial success on October 12, 2012. The film was produced by Grant Heslov, Ben Affleck, and George Clooney. The story of this rescue was also told in the 1981 television movie Escape from Iran: The Canadian Caper, directed by Lamont Johnson.
Upon release, Argo received widespread acclaim and also received seven nominations for the 85th Academy Awards and won three, for Best Film Editing, Best Adapted Screenplay, and Best Picture. The film also earned five Golden Globe nominations, winning Best Picture – Drama and Best Director, while being nominated for Best Supporting Actor for Arkin. It won the award for the Outstanding Performance by a Cast in a Motion Picture at the 19th Screen Actors Guild Awards with Alan Arkin being nominated for Outstanding Performance by a Male Actor in a Supporting Role. It also won Best Film, Best Editing, and Best Director at the 66th British Academy Film Awards.
Argo is a certificate 15.
Doors open 7pm, movie starts at 7:30pm
More details about our Cinema @ The Civic visit www.brighousecinema.co.uk
Ticket prices are
Adult £4.50
You can buy tickets in several ways
On the door
In advance from Harrison Lord Art Gallery, Ryecorn Wholefoods and Simply Flowers
Online from Ticketsource (Booking fee of 10% applies)